Spooky season is upon us! With Halloween just around the corner, it's time to plan a party! And if you want your Halloween bash to truly be a big hit, you're going to need more than just candy on the menu.
One effective way to feed all your guests on Halloween is to use food truck catering. A lot of people have never considered this option. But once they try it, they're hooked! Here are the top reasons why food truck catering for Halloween parties is the perfect way to improve your ghostly gathering.
You Experience Less Party Planning Stress
Planning and executing a party is stressful and time-consuming. You have to figure out who you want to invite then send the invitations. You have to come up with a schedule and buy all kinds of supplies.
For Halloween parties specifically, there's even more work. You have to plan out your costume and all the decorations. There's a lot of DIY-ing and shopping to do. And if you're the one making all the food that means you have to plan a menu, buy all the ingredients, and do all the prep work and cooking by yourself. That's a ton of work.
When you hire a food truck like Gary's Steaks to do the catering, that's one less thing you have to worry about. You get to focus on creating a spooky atmosphere for your guests. No need to shop for ingredients or lift a finger in the kitchen. We'll handle everything and cook delicious food that all your guests will love.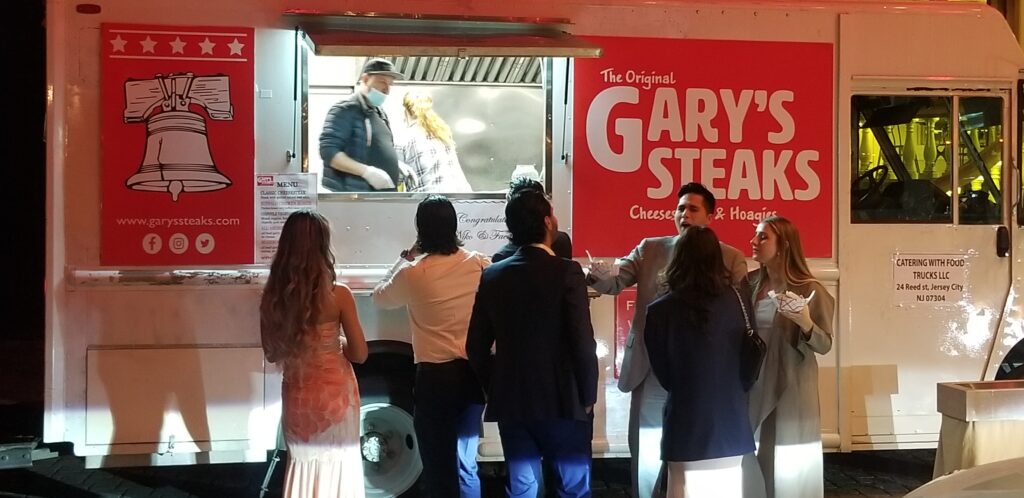 You and Your Guests Won't Have to Worry about Food Allergies
No matter how many guests you have, you'll most likely have at least a couple of guests with food allergies and/or dietary restrictions. Some of your guests may be adhering to a keto diet, while others are gluten-free or dairy-free. This is stressful for your guests because they might be unsure of whether there's anything for them to eat. At the same time, it can be stressful for you as you plan the party.
Luckily, food truck catering for Halloween events allows your guests to customize their orders. Because food is made to order, guests can choose the foods that are best for their health. At the same time, other guests won't have to sacrifice on any aspect of the menu.
Food Trucks Make Parties Even More Fun
If you're stumped on Halloween party ideas, having a food truck cater is one way you can make your event more unique. Food truck catering is exciting! Few people do it, so it will definitely make your party a memorable one for everyone who attends.
Food trucks add more fun to Halloween parties. The trucks can be decorated and the food can be themed. Simply the idea of eating food from a truck is more fun and whimsical compared to other traditional forms of catering.
If you use the made-to-order option from a food truck, all your guests are getting fresh food. They can keep eating all night long. No matter when they get hungry, they can get a freshly-prepared meal. Traditional forms of catering can't boast the same thing! Guests will be impressed by this perk of food truck catering.
Food Truck Catering Gives Picky Eaters Lots of Options
Do you have friends who are picky eaters? Or do you have kids on the guest list? You don't want these people to be eating nothing but candy, so it's important to make sure that there's some food they'll enjoy.
How can you be sure you're pleasing everyone with the menu? Choose a food truck! With this form of catering, guests can order their food made to order. They can interact with the people preparing the food, so they can learn all about the ingredients. Whether you're feeding kids' palettes or some very particular grownups, food truck catering pleases everyone!
Gary's Steaks offers more than just amazing Philly cheesesteaks. There's a little of everything on our menu from sliders to burgers to fish and chips to desserts and more! You can include as many or as few options as you want for your guests. It's so easy to plan the perfect party when Gary's Steaks is handling the food.
You'll Have Versatile Serving Options
We know what you're thinking: Halloween happens in the middle of fall when it's cold outside. Why would anyone want to throw a party outside with a food truck? With Gary's Steaks, you have nothing to worry about! We offer catering options for both indoors and outdoors.
Gary's Steaks also offers multiple ways to serve the food. Although many people enjoy our made-to-order option because it ensures all the food is fresh, we can also serve buffet-style. No matter how you choose to have the food served at your party, food truck catering is definitely a stress-free way to make sure everyone gets fed. Your guests will love the options!
It's the Cheapest Way to Cater Your Halloween Party
Halloween parties are lots of fun. But they can quickly become out-of-this-world expensive! You have to buy your costume, creepy decorations, and food and other refreshments. You might have rented out a fun venue, and some parties even feature entertainment like live music.
Using food truck catering for Halloween parties is one great way you can save money. The overhead costs associated with food trucks are low. So not only does using food truck catering eliminate some of the stress of a Halloween party, but it also helps save you money.
Get Food Truck Catering for Halloween Events from Gary's Steaks
Having a food truck at this year's Halloween bash is bound to be one of your most popular Halloween party ideas! If you want to choose Gary's Steaks to cater your next event, give us a call. We'd love to help make your event a huge success!