Gary's Steaks had a busy year in 2021, serving delicious food to all kinds of events needing food truck catering. From campus catering to ComicCon, from a NY Mets game to one of the biggest music festivals of the year, Gary's Steaks was there, providing some of the best NYC food catering around! Here's a breakdown of some of our best events that needed food trucks for parties in 2021.
Campus Food Truck Catering
Homecoming is never complete without tasty food to add to the festivities! Gary's Steaks made the rounds of several colleges last fall that needed food truck rentals, including Fordham University in the Bronx, Maritime College, Long Island University, and the prestigious Columbia University law school orientation last August. No matter your alma mater, hungry students found out that GarysSteaks was one of the best food trucks in NYC!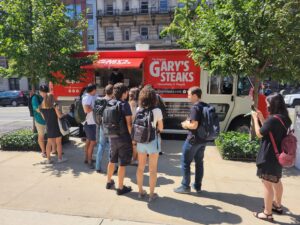 A Big Day at the Ball Park
On June 26 of last year, Gary's Steaks had the honor of catering to one of New York's best sports teams, the New York Mets, at home against the Chicago Cubs. Our best NYC food truck catered to the Mets TV crew, who even gave us a shout-out on live television! Citield was packed that day in Queens, and a national audience got to see our NYC food truck in action!
Comic Con Festival
No October in NYC would be complete without ComicCon at the Javits Center, and Gary's Steaks was there in 2021 to serve tasty cheesesteaks to the fans! As creative cosplayers mingled in front of the venue, Gary's fast and efficient service kept pace with the demand for NYC\'s best food truck meals! The whirlwind four-day event left everyone entertained and well-fed.
A Big Fall Finale At Rolling Loud
Our most exciting event in 2021 was catering for the epic hip-hop festival Rolling Loud, where headliners such as 50 Cent and Travis Scott and numerous other artists rocked Citifield in Queens for three rollicking days. Gary's Steaks was there, handling high-volume food orders and serving some of the best cheesesteaks in NYC! No customer went hungry at this high-profile event–Gary's Steaks gets the job done!
Looking forward in 2022
While we had an action-packed year at Gary's Steaks in 2021, 2022 is gearing up to be even better. If you have a major event coming up that needs food truck catering, keep us in mind! And don't forget the smaller events, such as a high school graduation party, corporate lunch catering, late-night film production meals, or down-home wedding reception. Gary's Steaks has catered for these events and more. So give us a call at 646-399-0645 to get started! Book a FoodTruck