It's that time of year again! Fall brings back cozy memories of piles of freshly-raked autumn leaves, the aroma of hot apple cider, and pumpkin spice wafting through the kitchen, as the air turns brisk and we bundle up for the festive season ahead. What better way to kick o the holiday season than with a Halloween party? Planning a Halloween party doesn't have to be a chore–let food truck catering take care of the menu, and enjoy your party worry-free!
Food truck catering for Halloween parties in 2021 is an exciting way to greet your guests and a trend that's here to stay. Gary's Steaks has ten years of experience with party planning, from weddings to graduation parties, and yes, your seasonal event! Let us take the lead in providing delicious meals, from fall into winter, throughout the holiday season.
Ghosts, goblins–and delicious catered food!
When planning your Halloween party menu, the devil is in the details. While you're busy carving pumpkins and placing orange and black party favors, our expert team at Gary's Steaks will be planning and cooking up your warm meals! Take the time you need to dream up your costume, set a date, and send out invites worry and stress-free. Food truck catering for Halloween events takes a big item off your to-do list and adds a novel approach to hosting a seasonal party.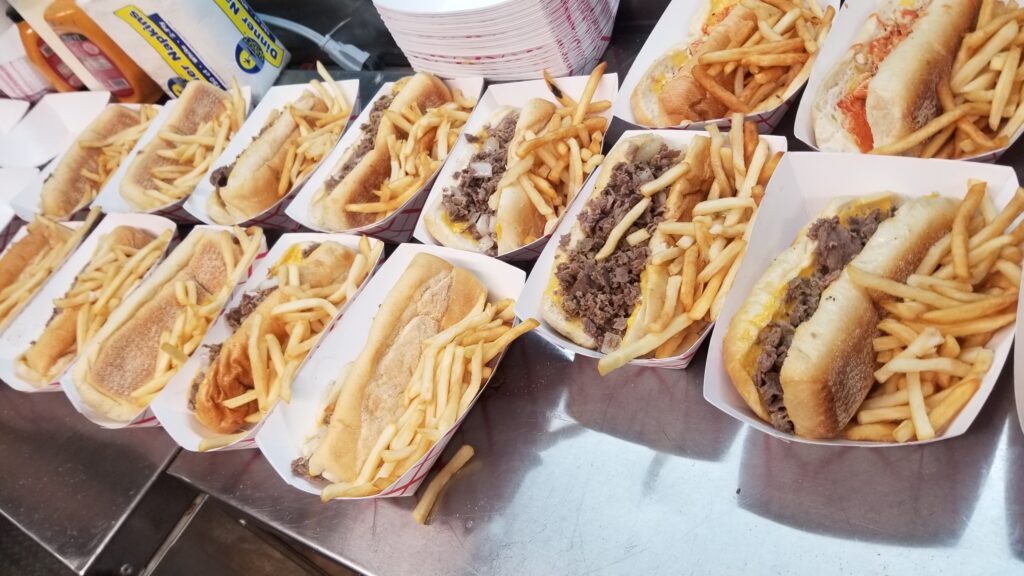 Customize your catering menu to have healthy, safe options
Customizing your food truck catering menu to include vegan, gluten-free options is definitely something we can do! Please include special menu requests in your inquiry and we will work together to provide delicious, safe, and diverse options for your guests with food allergies or dietary restrictions. The team at Gary's Steaks knows that when you hire a food truck, you expect great service and provide experienced catering for your party.
Catered Halloween parties are just the beginning!
Catered Halloween party ideas don't end with October. Have a homecoming event where you need food truck catering? A Thanksgiving pre-game? Holiday-hoagies for your work Christmas party? A New Year's bash that needs a food truck into the wee hours? Call 646-399-0645 or email Gary's Steaks at garyssteaks@gmail.com to get the ball rolling! Gary's Steaks has done it all and looks forward to catering for your special event in the coming holiday season. Book a FoodTruck
More to come in the next few weeks….