Your wedding guests might forget your decorations, miss your color scheme entirely, and not notice what kind of flowers you have. But they'll definitely remember your food! It's one of the most important things on your big day.
Have you thought about hiring a food truck for your wedding? Food truck wedding catering is convenient, affordable, and delicious! This trend is catching on fast and is sure to impress everyone on your guest list. Here's what you need to know before you hire a food truck.
How to Hire a Food Truck for Your Wedding
Hiring a food truck rental for weddings begins just like hiring any caterer does. After taking a look at the truck's menu, you select which items you want to serve. You can choose to offer your guests just a few options or the entire menu for lots of variety.
Obviously, food truck wedding catering works best for outdoor receptions in the warmer months. However, many food trucks offer options for indoor weddings as well. You can still get your favorite food truck to cater your wedding even if all your festivities are happening inside.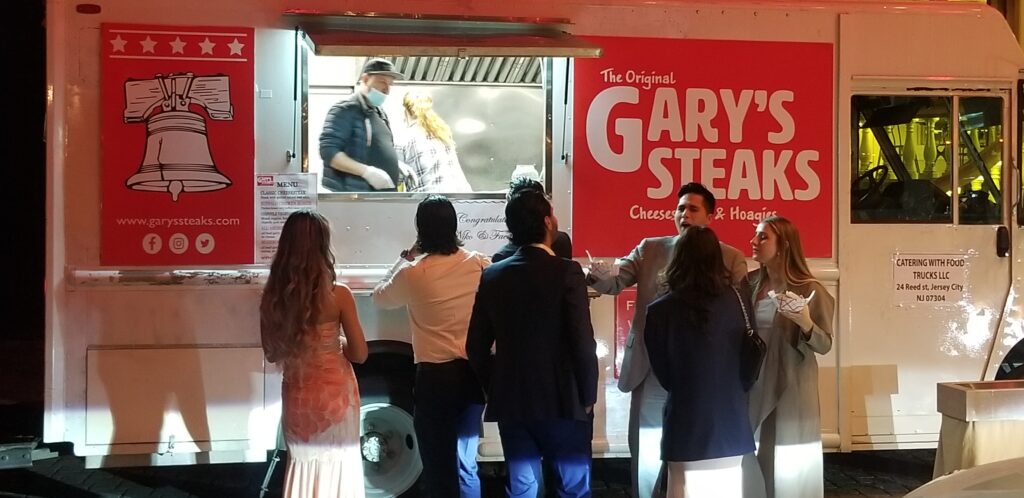 Buffet Style or Order Your Own? You Decide!
There are a few different options for serving. You can choose to have your guests order their own food right from the truck. Or, for something a little more convenient, you can ask the food truck company to set up a buffet. This works well if you're selecting only a few items off the truck's menu for catering.
Food trucks aren't just a fun way to make your reception stand out. They can also be the perfect way to cater your rehearsal dinner or feed your whole family at a day-after brunch. No matter what event you use a food truck at, you can expect the same great service and delicious menu!
How Much Does It Cost to Hire a Food Truck?
One of the best things about hiring a food truck rental for weddings? The affordable cost! Using a food truck instead of a more traditional catering option slashes the per guest cost at least in half, if not more. In 2019, the average cost of wedding catering is $70 per person. If you choose a food truck instead, you'll only end up paying $25 to $35 a guest. Those are huge savings that you could put toward your honeymoon or your first home.
Of course, not every food truck will cost the same. You'll have to pay attention to the demand for the food truck you're wanting. Different cuisines will also affect how much you're going to pay. If you want a food truck that sells lobster (yes, such a thing exists!) expect to pay a higher price per person than you would for a simple taco truck. The price you pay for food truck catering also depends on how extensive you want the menu to be. Simply choosing a truck that offers entrée options will be cheaper than choosing a truck that also sells beverages and desserts.
How Hiring a Food Truck Can Save You Money
With food trucks, you're not paying for overhead. The truck already has its own kitchen to prepare and serve everything on the menu. This opens up your venue options because you don't have to worry about the location having a kitchen or serving area. With a food truck, you'll also be saving money by not paying for wait staff or fancy dishes.
5 Advantages of Having a Food Truck Rental at Your Wedding
You Can Choose a Food Truck to Match Your Wedding Theme

Food trucks are great if you're having a themed wedding. You can find old-fashioned-looking food trucks, whimsical food trucks, and even formal food trucks. Regardless of your wedding's theme, you're bound to find something that fits. The truck can be a showstopping focal point at your wedding reception.

Guests Won't Have to Wait to Be Served

When it comes to speed of service, food trucks definitely have the traditional catering format beat. Food trucks are fast! When customers buy from a food truck, they expect to be served quickly. When you have a food truck at your wedding, you can expect that same fast, efficient service. Food is always made to order, so it's fresh!

Guests Can Customize Their Meal

Have you ever RSVPed to a wedding with your menu preference and changed your mind later? With a food truck, your guests don't have to decide what they want to eat weeks or months beforehand. When your guests can order from a food truck, it's also easy to customize their dish. Your wedding menu will satisfy everyone. Even picky eaters and guests with food allergies will find something they love!

Guests Won't Go Hungry

Many catering services aren't well-suited to keeping your guests fed late into the night. But a food truck is convenient. You don't have to worry when the caterer clears away the dishes and packs up all the food. When your guests get the munchies, they can simply go up to the truck and place an order!

There's Less to Clean Up Afterwards

Because a food truck's menu items are meant to be eaten on the go, having a food truck at your wedding makes for easy cleanup. Your guests won't have to worry about getting their nicest clothes dirty. And you won't have to worry about the food and dishes being a big source of stress.

Gary's Steaks Food Truck Wedding Catering
Want to impress your guests with a food truck rental at your wedding? If you choose Gary's Steaks, you and your wedding guests can enjoy delicious cheesesteaks, sliders, and finger foods. We even offer dessert!
You want your big day to be perfect. Gary's Steaks does too. Call us today to learn more about our food truck wedding catering service. We'll be sure to make your wedding menu something to remember!
Book a Food Truck    —  Call us: 646 399 0645