It's hard to believe, but Labor Day is just around the corner. That means it's time to start planning your big holiday bash! Many people choose to grill out or have a picnic to celebrate with friends and family. But why choose the same old simple barbeque when there are so many other fun party options?
Having a food truck catering at your Labor Day party 2019 is unexpected! It will make your ordinary event something unforgettable. If you're on the fence about hiring a food truck like Gary's Steaks for your next event, take a look at why others are choosing to work with us!
Labor Day Catering Lets You Relax
Labor Day is supposed to be a day off. Why would you spend it stressing over planning and executing an elaborate party? When you use a food truck for your event, the food is one less thing you have to worry about. During the party, you can sit back and relax with your guests. We'll handle all the food and bring it right to you!
Don't let this special day be one that's filled with stress. Having your Labor Day party 2019 catered means you don't have to shop, prep, cook, or serve your guests. You won't have to worry about whether or not your kitchen can accommodate cooking for everyone or if you have enough dishes to feed all your guests. Gary's Steaks brings everything your party needs to be a success!
It's a Cost-Effective Way to Cater
If you've thought about catering your party, you might be shocked by just how expensive it is. Even if you're having just a small gathering, catering is always an investment. But with a food truck, it really doesn't have to be painful.
You'll save so much money by using a food truck for your Labor Day catering! Cost-effective catering does not mean you have to sacrifice on having a great party. With Gary's Steaks, you can stay on-budget for your Labor Day party while still getting the high-quality food you want.
The Food is Always Fresh
When you're cooking for a large group, it can be difficult to know how to prepare. You want every aspect of the meal to be as fresh as possible. But when you're cooking a big quantity of food, that's not always realistic.
With food truck catering, everything is ready quickly after ordering. Food that's meant to be hot will be hot when it gets to your guests. And food that's meant to be cold won't have to sit out in the sun, so it'll remain cold until it's served.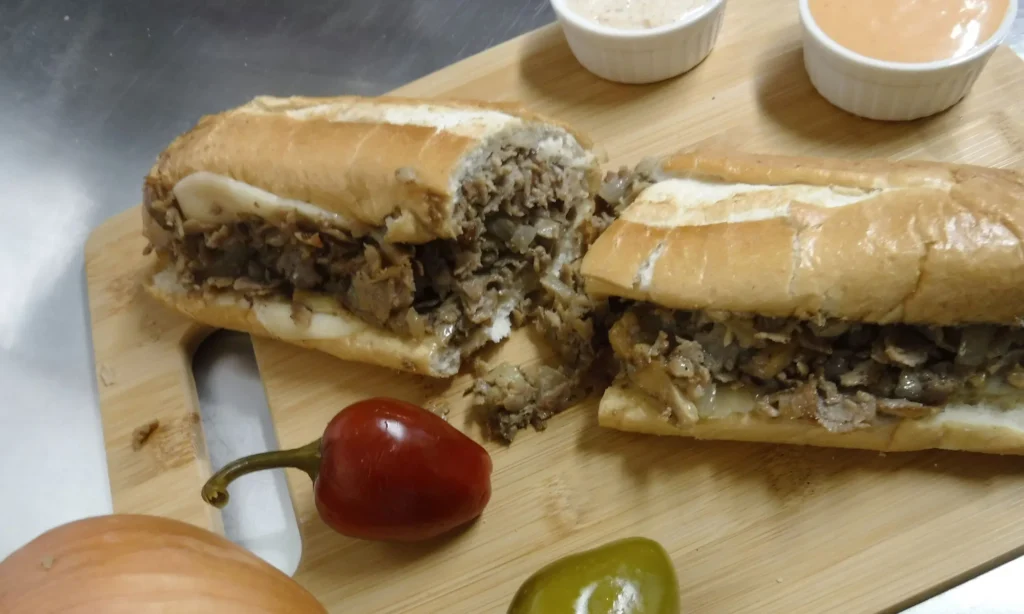 Labor Day parties should be relaxing for everyone involved. When you have food truck catering, you can be even more laid back. People can come and go as they please. When they're hungry, they won't have to wait around for you to serve dinner. They can order their food right away.
Food truck catering also allows your guests to keep eating as much as they want throughout the day. When you do ordinary buffet-style Labor Day catering, you have to clear away the food after dinner. Otherwise, the food could spoil. Catering from a food truck allows you to be much more flexible. As long as the truck's still at your party, your guests can keep eating! They can come back for seconds and thirds if they want!
There Are Food Options for Everyone!
It's hard preparing for any event with food when you have guests with diverse palettes. Dietary restrictions and food allergies can drastically alter your menu. It's hard to please everyone! Sometimes those who are following strict diets may choose to not attend catered events at all because they don't want to be a burden. But with a food truck, dietary restrictions and food allergies aren't an issue. Guests can order food exactly as they want it. They can ask for ingredients to be omitted or substituted.
While traditional Labor Day grill-outs have a limited menu, there are so many options when you use a food truck like Gary's Steaks. We can offer a BBQ party menu with cheesesteaks, burgers, hot dogs, and French fries. For drinks, we can provide summer favorites like lemonade and iced tea. We even offer dessert! Choose from ice cream sandwiches, cannoli, and cupcakes.
Food Trucks Add Extra Fun to Every Party!
A food truck allows you to throw your Labor Day party just about anywhere. We can provide delicious, fresh food for your event whether it's at a tennis club, golf, beach, or another exciting venue. You won't have to worry about whether or not there your venue has the proper space for and equipment for cooking. Everything Gary's Steaks needs to cater your event is housed right in our truck!
Gary's Steaks is flexible about location. We cater events all throughout New York and Jersey. If you're throwing a Labor Day party in the Hamptons, Long Island, Huntington, or Westchester, we can help!
Food trucks also look fun. You can find food trucks with many different themes. They add some visual interest to every party. No one else will probably be able to say they have a food truck at their party! Using one automatically makes you different.
You Can Eat While Mingling with Guests
Food from Gary's Steaks is meant to be eaten on the go. That means if you don't want to have formal seating, you don't have to. Guests can order their food from the truck then eat as they mingle and play games. It's easy and convenient!
People of all ages love food trucks! Our food is easy for kids to eat. Whether your party is adults-only or filled with families of young kids, everyone will love having Gary's Steaks there.
Make Your Labor Day Party 2019 One to Remember with Gary's Steaks
There are so many reasons why you will love food truck catering! Gary's Steaks would be thrilled to provide delicious food for your Labor Day event! Check out our menu online or give us a call if you have any questions.
Book a Food Truck    —  Call us: 646 399 0645