The holiday season is quickly approaching! With fall weather now in full swing, it's time to gear up for all the end-of-year holidays:
Thanksgiving
Christmas
Hanukah
Kwanza
Halloween
New Year's Eve and New Year's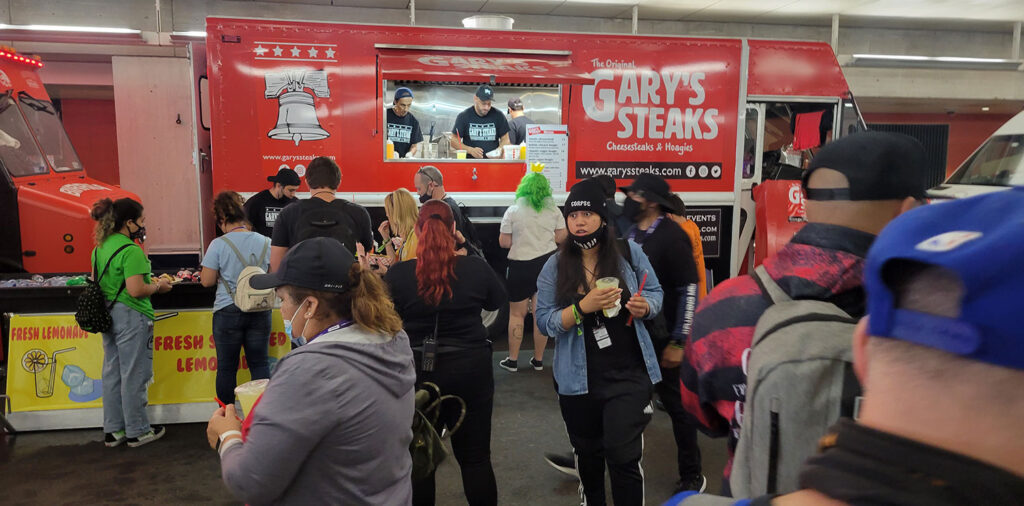 No matter which holidays you choose to celebrate, you will probably end up throwing at least one party. The holidays are meant to be exciting, not stressful. But whenever you're in charge of a big event, it's easy to get stressed out.
Food is a central part of holiday gatherings. It's also one of the most stressful aspects of preparing for a party, no matter the size. Whether you're cooking for just a small family or a huge feast for dozens, cooking and baking is a lot of work!
Why not leave the cooking to someone else? With food truck catering from Gary's Steaks, your holiday party can be even more fun with a lot less stress. Here are five reasons why you should use our food truck catering for the holidays this year.
Focus Less on Food, More on Family and Friends

The holidays are supposed to be a relaxing time spent with the people you love. But if you're the one in charge of the food, they can be one of the most stressful times of the year. You have to plan the menu around your guests and shop when the stores are packed with holiday customers. Then, you have to spend hours prepping and cooking. Hopefully, you have enough dishes and silverware for everyone! After the meal, there's a lot of cleanups to do. This might take away from your relaxing time with family.

Before you know it, the holidays are over, and you've barely spent time with your family or friends. This is no way to spend the holidays. For a lot of people, the holidays are one of the rare occasions they get to spend time with family who lives far away. If your family is visiting from a different state, it's not fair that they've come such a long way, only to watch you cook during the entire holiday.

Food trucks eliminate so much of this stress! Food truck catering will handle planning the menu, buying all the ingredients, all the cooking, and even the cleaning for you. You won't even have to surrender your dishes! If you choose this option, it's a huge weight off your shoulders.

Give Everyone an Experience They'll Cherish for a Lifetime

Renting out your very own food truck isn't something you see at just any holiday party. That's one of the reasons why it's so memorable! Having a food truck at your holiday party is a fantastic way to make everyone remember your holiday party. If you don't get to see your holiday guests often, having a food truck will help make that special time with them count.

Renting a food truck is unique, and it's fun for all ages. Whether your guests are young children or senior citizens, they'll love the fun experience that food truck catering gives. Getting food truck catering is like having a gourmet kitchen in your very own home. And all the food is fresh and delicious!

Don't Leave Anyone Out of the Great Culinary Experience

It can be challenging to accommodate guests with certain food allergies or dietary restrictions. This is especially true if you don't have personal experience planning a menu around those diets. If you have many guests with dietary restrictions, planning a cohesive menu with everyone's health in mind is even more complicated.

But with food truck catering for the holidays, planning the menu isn't so complicated. No one has to be left out of a fantastic lunch or dinner just because they have different dietary needs. When everyone gets exactly what they want, you don't have to worry about your guests' health. You can have peace of mind!

Be Cost-Effective When Planning Your Party

Opening up your home for the holidays is fun, but it can also be expensive. You're already buying gifts for everyone. Housing and feeding everyone for a few days quickly adds up. But with food truck catering, you're getting the best deal on a stress-free holiday.

While the price of traditional catering can cause even more stress, food truck catering is the most inexpensive way to feed all your guests. There's no other catering option that allows you to get as much food at such as a low cost. Whether you're having the part at your home or some other Tri-state location, a food truck is accommodating. We go wherever you need us to and still charge you an amazingly low price.

Give Everyone Food Options They Will Enjoy

Having a holiday party with ten, twenty, thirty, or more attendants can make planning a crowd-pleasing menu challenging to say the least. Sometimes pleasing everyone's dietary restrictions and taste buds can seem nearly impossible. Gary's Steaks makes having a menu that everyone will love easy! We offer a large selection of foods from cheesesteaks to burgers to hot dogs and more. A wide variety of palettes will be able to find something they truly enjoy.

If you choose to get food truck catering made-to-order, your guests can also customize their food choices. If there are certain ingredients they would like added or omitted from a recipe, it's easy for your guests to get exactly what they want. They will get fresh, delicious food that's suited to their individual tastes.
Make the Holidays Extra Special with Gary's Steaks
Whether you're hosting a Christmas party, a New Year's Eve and New Year's celebration, or some other holiday event, Gary's Steaks would love to be a part of it. We're happy when our customers are happy. To learn more about our catering options, contact us today!