f you're planning a fun corporate event or office party, you should hire a New York food truck! This trendy catering concept is the most convenient, cost-effective way to get everyone on your guest list fed. Keep reading to find out why this option is so convenient and affordable!
We Bring the Kitchen and the Equipment
Most offices don't have a culinary kitchen that's equipped for catering a large gathering. This makes it difficult to have a catered office party actually in the office. So, you are often forced to go to an off-site location. Even then, you might have a difficult time finding a venue with a well-stocked kitchen that can serve dozens or even hundreds of individuals.
With food truck corporate catering, you're not so limited with options for location. You can have your party at the office, and we'll catering inside or outside. You can also pick any other venue whether has a kitchen or not!
All the kitchen space Gary's Steaks needs is housed right in our truck. We have all the proper cooking equipment to make your event a success. Just tell us where you need us to be in New York state or New Jersey, and we'll make it happen!
No Wait Staff Required
If you've hired a traditional caterer to create a sit-down dinner for your office event – you'll need a wait staff. Even if the caterer provides this staff, you're going to have to foot the bill. This is an additional expense that you can eliminate with food truck corporate catering.
With this alternative catering option, food and drinks are served straight from the truck. You won't have to pay for extra staff members to serve food and clear away dishes. If your employees want additional servings or drink refills, they can simply return to the truck and order more.
Guests Can Come and Go as They Please
With traditional catering, it's important that you have a scheduled meal time for your event. The caterer needs to know when to serve the food so they can know when to start cooking. Everyone gets served at the same time to ensure the food is fresh.
Food truck office catering is far more flexible. If your employees want to eat right when they get to the party or wait until later on, they have the options to do so. It doesn't matter if some guests arrive a little late or leave the event early, they will still be able to eat! No matter when they eat, they can get their food made-to-order, Gary's Steaks delicious eats are always fresh!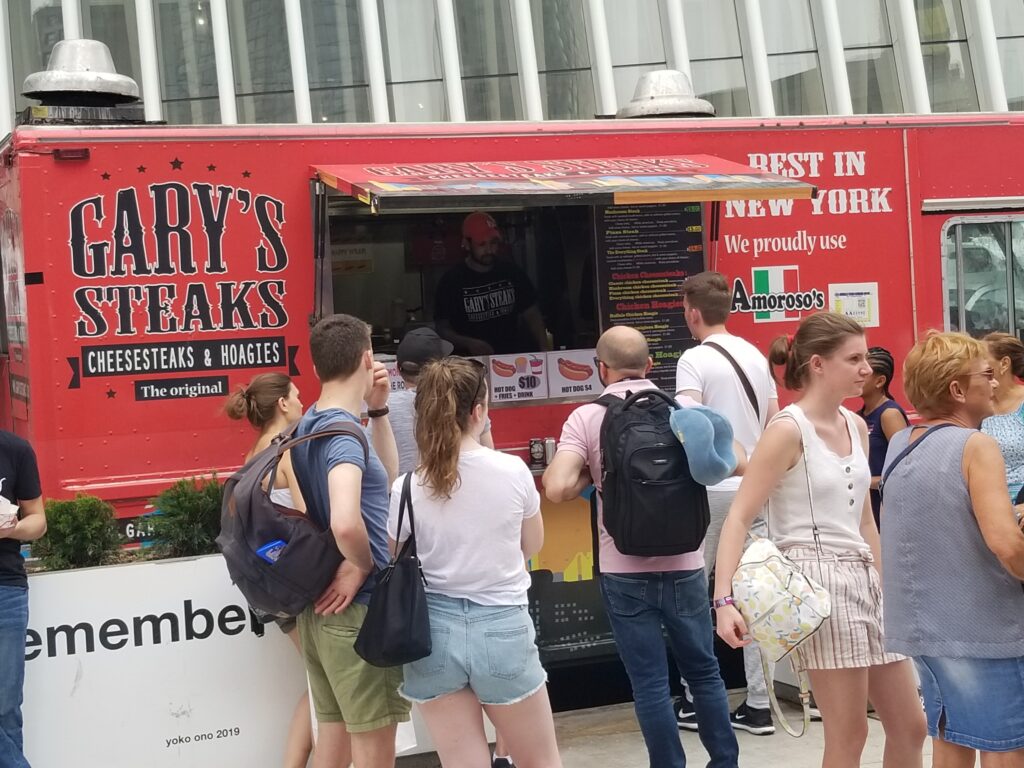 Everyone Gets What They Want
If you choose to have made-to-order food truck corporate catering, each guest can customize their orders. No matter how picky an employee might be, they can alter and substitute when they order. They can find something to eat that they love!
If you have employees with food allergies or dietary restrictions, food truck catering keeps them safe. Each employee can directly speak to our food truck staff about what's in their order. They'll never end up getting an ingredient that will compromise their health.
We Cater Indoors and Outdoors
When you think of food trucks, you probably think of the outdoors. But, Gary's Steaks food truck office catering allows you to feed guests inside and outside. You can use us to cater your event no matter where you're located or what time of year it is.
Did you plan for an outdoor office party only to get rained out? No problem! Gary's Steaks is flexible. We can adjust our setup for indoor catering.
Don't Pay for Overhead
When you hire a New York food truck, you have versatile serving options that eliminate your overhead costs. You can easily have your corporate event at the office or outdoors. There's no need to pay for a big fancy venue. This is a big way to save on the budget for your corporate event.
Use the Truck for Your Marketing Campaign
One of the amazing benefits of working with Gary's Steaks is that we offer experiential marketing. This is a great way to make your corporate event a marketing opportunity. With this option, we'll wrap one of our food trucks in your company's branding.
If you're hosting your party off-site, passers-by will take notice. Seeing a Gary's Steaks truck with your custom branding might get them interested in working with you in the future. It might also encourage them to ask you some questions about your business.
Sometimes catered parties lead to lots of food waste. This is especially true if you're choosing to serve buffet-style. By offering our menu made-to-order, food truck catering gives your guests the ideal amount of food. They can eat as much or as little as they like. When the party's over, you'll feel good about not having a bunch of leftovers go to waste. Your guests will only be served exactly what they need.
Simplify the Setup (and the Tear-down)
Decorating for office parties can be stressful, especially if your company goes all out with a theme. If you have tables for dining or serving, they'll have to be decorated as well. A food truck simplifies your to-do-list for your office party or other corporate event. Because food can be eaten on-the-go, you don't even need tables if you don't want them. All you need is our truck!
You can decorate as much or as little as you want without worrying about doing anything extra for the food. Make your party formal or casual. You won't have to make plating decisions or come up with centerpieces. When the night is over, there won't be a ton of clean up. You can go home quickly and relax.
Show your employees your appreciation by booking delicious food truck office catering from Gary's Steaks for your next big event. Your wallet and your taste buds will thank you! All your employees will love this unique twist on corporate events.
Book a Food Truck    —  Call us: 646 399 0645